On January 28, the 10th dongguan economic annual conference 2018, with the theme of "dongguan climate for innovation and development of the greater bay area in the new era", was held at dongguan institute of technology in songshan lake. Nearly 500 business elites gathered together and enjoyed a financial feast. Economic annual meeting to shortlist the "five selection" of enterprises, individuals or events on the spot awards. Dongguan sanruntian intelligent science and technology co., ltd. has been selected and reviewed by many, and won the honorary title of "top ten growing enterprises in dongguan in 2017" in the "five selection".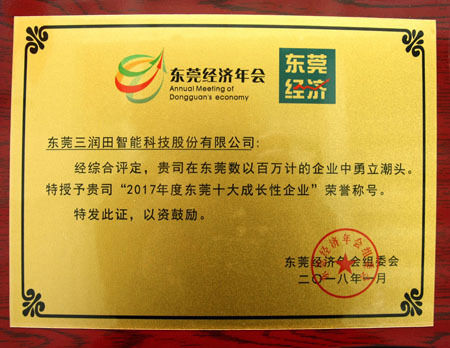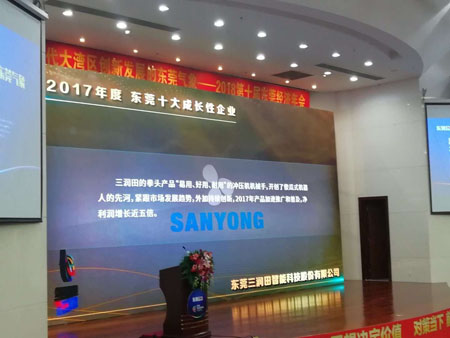 It is understood that the event selection is divided into ten major economic characters of the year, the year the top ten growth enterprise ", "top ten economic event of the year", "annual multiplication benchmarking enterprise" and "dongguan economy lifetime contribution award" awarded project, the purpose is to dig the dongguan model, establish higher industry benchmarking, structures, promotion, road show, project docking, investment promotion and capital introduction of integrated service platform, promote enterprises to obtain practical development. Among them, 10 growth enterprise "in 2017, dongguan" select nominees by dongguan each government functional departments, each big business association, successive won the prize on behalf of the recommended or recommendation enterprises, in the form of a list of selection, examination and approval and media publicity, network public voting, expert evaluation, lasted for 60 days, by the notary office in dongguan.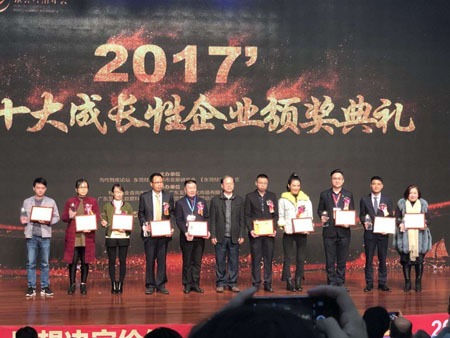 The company representative took the stage to accept the award
Under the background of the new era of "guangdong-hong kong-macao greater bay area construction", dongguan has embarked on a new journey, opened a new chapter and created new business opportunities, new models and new highlights for its enterprises. The achievement of the honor is the recognition of the work of sanruntian. Sanruntian will continue to contribute to the transformation and upgrading of "made in dongguan" to "created in dongguan" and the building of "beautiful dongguan"!